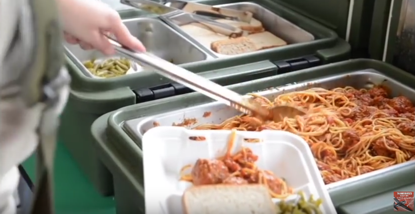 o displayed calm, professional leadership while remaining flexible and mission focused during the rapidly changing requirements of COVID-19 pandemic
o delivered food to over 20 quarantined soldiers; sustained operations of the New Rochelle Dining Facility
o served food to the entire 10th Special Forces Group during the pandemic; provided infection free dining service
o staged and loaded all vehicles in the convoy prior to first formation to ensure proper AT support
92G/Food Service NCO
o lead a combined mess section of two companies for 15 days during AT 19 serving over 8,400 meals without incident or injury
o supervised the kitchen for 8 months as Senior Cook
o managed feeding plan for over 250 Soldiers on a consistent monthly basis
o ran a DFAC as a junior NCO during IDT on a regular basis; ensured that over 300 Soldiers were fed
Culinary Specialist
o assisted in preparing meals to feed over 200 soliders twice a day during the entire 14 days of annual training
o expertly managed the successful execution of two field exercises to over 300 Soldiers; provided valuable training to subordinates, ensuring MOS proficiency
o executed the 92G training plan for 25 Soldiers that greatly increased job performance of subordinates; resulted in better entrees for customers
o effectively trained and managed six shift leaders on improvements to production schedules; resulted in zero waste in food service preparation
o met all meal requirements during deployment despite being under 50% strength
Competence
o set up the containerized kitchen; started serving meals ahead of schedule, provided hot meals in the field
o calculated and distributed the battalion's MREs; all sections and detachments fully supported
o managed feed plan for over 250 Soldiers on a consistent basis
o knowledgeable Food Service NCO who ensured his section conducted all operations within Army Standards
o displayed autonomy and sound judgment by executing all Food Service assignments with little supervision
Responsibility and Accountability
o managed section's Food Service budget within the State tolerance of 5% under and 10% over allotted meal costs
o maintained 100% accountability of all assigned equipment valued over $500,000
o fostered safety conscience culture within his section resulting in zero incidents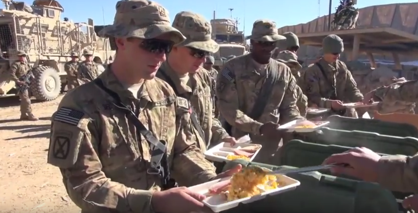 Food Operation Manager
o instrumental in DFAC receiving a 95% food service rating during Division Food Service inspection
o his resourcefulness helped increase customer satisfaction from 75% to 95%; a true testament of his technical abilities
o supervised all Class I operations during OEF; supported over 400 meals twice daily despite being undermanned
o earned a gold German Schutzenschnur marksmanship badge during OEF; set the standard for his soldiers to emulate as the only food service specialist to do so
o received impact AAM from TF Balkh Commander for establishing an operational field-feeding site in support of CJSOTF-A
o trained six Soldiers in dining facility functions; enabled them to operate and provide sustain mission without degradation to operations
o implemented a comprehensive food service regimen; he and his soldiers attended Culinary Arts Institute earning 18 college semester hours each
o trained personnel on rations accountability and subsistence procedures; decreased DFAC account status by 37% for FY13
o ensured soldiers were educated on the latest food service equipment including the newly designed Assault Kitchens
o managed the preparation and distribution of over $1.2 million dollars of Class I subsistence for 5 Combat Outposts during combat operations
o received exemplary comments during CG's Thanksgiving Best Mess competition; area awarded 2nd place for overall theme
o his direct supervision was responsible for the Dining Facility receiving a 94% on the Group Preventive Medicine inspection
o served as NCOIC of _____ customs inspection team; inspected and validated over 75 ISU-90 containers and 200 non-standard loads
o mentored five NCOs in DFAC functions; enabled them to serve up to 1,200 meals daily and operate independently without direct supervision
o conducted training for 10 soldiers; three Soldiers attended Culinary Arts Institute; each earned 18 college semester hours
o trained two NCOs on Class I rations breakdown and distribution functions; supported seven assigned Combat Outpost during OEF
o developed a cohesive team while attending training events; managed Soldiers while receiving instruction in culinary arts preparation
o maintained 100% accountability of all equipment valued at $1,368,760; ensured all equipment was maintained at or above a 90% readiness rate
92g40 Senior Food Operations Sergeant
o volunteered to take on the responsibility of the annual Christmas meal which served over 3,000 soldiers and their families
o her Christmas meal garnered extremely high marks from the Commanding General for outstanding menu choices expertly prepared by her team
o served over 22,000 meals during the Operation GOLDEN MEDIC exercise
o achieved an EXCELLENT on the kitchen inspection with zero deficienies the first time
Food Service Sergeant
o produced over 9,000 meals during annual training with outstanding reviews (92G20)
o demonstrated outstanding leadership overseeing six cooks and two kitchen helpers on two shifts (92G20)
o mentored two cooks to become shift leaders during annual training with positive results (92G20)
o maintained accountability for over $30,000 in food inventory and over $5,000 in paper products and equipment with four units sharing a dining facility during annual training (92G20)
o kept dining facility in a clean, safe, and sanitary manner at all times (92G20)
Food Service NCO
o displayed a calm professional leadership while remaining flexible and mission focused during the rapidly changing requirements of a forward deployed CSSB
o staged and loaded all vehicles in the convoy prior to first formation to ensure proper AT support
Culinary Specialist
o demonstrated the breadth of his military knowledge and technical culinary abilities at the 4th Quarter 4ID Chef of the Quarter Board
o participated in 15 logistical patrols providing hot meals to Soldiers deployed along 20 miles of pipeline
o worked overtime, into the early hours of Thanksgiving Day, to prepare the food for the meal that afternoon, where the DFAC served over 700 soldiers
o cleaned and set up the CK
o his performance and subsequent victory at the 4th Quarter 4ID Chef of the Quarter Board have set a new standard for other FSC culinary specialist to strive for
o devoted herself to the success of the Robert C. Stack Dining Facility; documented training for every aspect of required tasks
Culinary NCO
o successfully managed five cooks and five KPs, producing over 2,000 meals daily
o set up the containerized kitchen and handled the ordering and distribution of the battalion's MREs
o used initiative to use idle trucks to transport Soldiers to and from the unit
Senior Food Operations Sergeant
o mentored one NCO to win the Brigade and Division Food Service NCO of the Quarter ___FY12
o trained rations personnel on accountability and subsistence procedures that decreased the DFAC Account Status by 10%; resulted in 100% readiness for FY 12
o trained two food service Managers in AFMIS accounting operations, which resulted in the facility account status being within tolerance for Fiscal Year 2010
o managed numerous tasks simultaneously with great success; mentally tough NCO
o coordinated necessary supplies, continued operations, fed Soldiers and civilians on time after DFAC burned down
o selected from among peers to serve as First Cook during the Connelly large dining facility competition, he devoted long hours over five days preparing and performing for inspectors. His efforts garnered recognition for best lighting and sanitation seen to date.
o before deployment to FOB Echo, SPC Smith used initiative to stage and inventory all convoy vehicles. Working as a Culinary Specialist, he did an outstanding job of arranging and assisting in preparation of meals for over 250 soliders twice a day during the entire deployment. Despite being under strength, the Food service section met all meal requirements.
o helped organize unscheduled food service for temporary forces; he displayed efficiency, skill, and leadership while mentoring the lower enlisted in practical organization of expedient field kitchen service. His attentional to detail resulted in a safe worksite and his culinary skills also helped to maintain and reinforce the morale and readiness of the deployed force.
o SPC Smith, responsible for feeding over 250 519th MP Battalion Soldiers in a field environment, maintained numerous outside lines and was integral to the orderly and efficient delivery of over 2,000 meals. He displayed a high degree of professionalism, technical expertise, and dedication to duty. Soldier also demonstrated a tireless commitment to excellence and consistently achieved high standards.
Culinary Specialist
o served as a key advisor to coordinate labor and resources to support two unit Organization Day functions feeding over 500 personnel
o maintained the Field Sanitation Center, Mobile Kitchen Trailor, and performed PMCS on assigned equipment
o established accountability of Soldiers and dining facility workers during dining facility fire
o ensured that proper procedures, temperatures, and time periods were adhered to during food preparation
o served as Culinary Specialist with numerous additional duties as Rations Clerk, Admin Clerk, as well as First Cook for the LightHouse Dining Facility
o continued his education through the Army's ACCP program to prepare himself to become an effective NCO and Leader
o provided technical guidance to lower ranking personnel at Hero's Dining Facility, improved quality
o directed safety, security, and fire prevention procedures
o demonstrated tireless commitment and dedication to meet and exceed all requirements
o exhibited exceptional drive for the unit to provide world-class dining service, an inexhaustible force
o this soldier is a key member of this dining facility. He is a valuable asset to the army and a credit to his MOS
Team Leader
o instilled a 'team first' mentality within the Section; led by example
o constantly sought to improve the Section's work environment
o worked with focused determination until the mission was completed
o maximized the use of all available recourses to efficiently accomplish assigned missions
o developed subordinates by encouraging them to always accept greater responsibility and seek developmental opportunities
o totally reliable, completed all tasks in a timely and professional manner
o required Soldiers to accomplish all mandatory training before recommending future training
o always willing to share knowledge and insight in order to develop subordinates to their full potential