Under construction... It was pointed out that we have no guidance on how to prepare an official bio. This page is intended to correct that failure. However, there seems to be no official guidance on how to proceed. There are regulations that address official photos but, as writers, we don't have to deal with that. The examples shown below are official bios taken from official military web sites. If anyone can provide further guidance, please include it in the form below or send it to editor@armywriter.com and I will add it. Thanks!
Reference: NGR 600-100 Commissioned Officers Federal Recognition and Related Personnel Actions, is a National Guard reference with an example on page 80.
---
25H Network Communication Systems Specialist
Spc. Salvatore V. Mongelluzzo
86th Signal Battalion, Fort Bliss
Salvatore Vincent Mongelluzzo was born in the charming town of Warwick, New York. As the eldest of three siblings, Salvatore pursued his dreams with relentless determination. His journey began at Rondout Valley High School and Boces Trade School, where he not only excelled academically but also dominated on the basketball court and raced on the track and field. During his time at Trade School, he honed his skills in the realm of Cisco Cyber Security/Networking, achieving an impressive 97% average over two years and acquiring an astounding array of 5 Cisco Technical Certifications alongside 3 TestOut Technical Certifications. His pursuit of excellence didn't stop there; he embraced competition and showcased his talents in the SkillsUSA New York State finals in Extemporaneous Speaking. He left his mark by securing the 5th position out of 30 participants. Acknowledged for his achievements in Trade School and SkillsUSA, he was awarded the coveted UBTO Scholarship Winner 2020. Salvatore then took the oath on January 11th, 2021, and chose the MOS of 25N. Pvt. Mongelluzzo left for Basic Combat Training in Fort Jackson, SC on January 25th, 2021.
Upon completing his training at Fort Jackson, SC, he was waivered and promoted to Private Second Class on April 15th, 2021, in recognition of his outstanding performance during Basic Combat Training. Now a Pv2, Mongelluzzo was assigned to the 551st Signal Battalion at Fort Gordon, GA, where he further honed his technical skills and forged lasting bonds with fellow Soldiers during Advanced Individual Training. After 25 weeks of training, he graduated, and his journey took an exhilarating turn as he was sent to Suwon, South Korea. There, he was assigned to the 6-52nd Air Defense Artillery Battalion, serving with dedication as a Communications Systems Operator. Operating within Bravo Battery, he skillfully maintained seamless connections for 8 launchers, the Battery Command Post, and the Engagement Control Station. In addition to his core duties, he proudly served the roles of Comsec Manager and battery representative, standing at the forefront of the mission's success. Salvatore's exceptional service in the 6-52nd ADA Battalion led to his promotion from Private First Class to Specialist on September 1st, 2022. He was also recognized with the Army Commendation Medal and Army Achievement Medal for his outstanding contributions. These transformative experiences continue to shape Specialist Mongelluzzo as he now serves with the 86th Signal Battalion at Fort Bliss, TX, in the role of a 25H Network Communication Systems Specialist.
Looking ahead with a dynamic vision, Spc. Mongelluzzo aspires to rapidly advance to the rank of Sergeant. He aims to concurrently enhance his civilian education while honing his leadership abilities in his ongoing military career. As the horizon stretches before him, he has ambitions of securing a Bachelor's degree in Network Engineering, crafting a comprehensive Green to Gold packet, and creating a flourishing family.
---
92Y Unit Supply NCOIC
SGT Harris was born and raised in Portland, OR. She enlisted in the Army in January 2018, graduated high school in June 2018, and began Basic Combat Training July 2018, at Fort Jackson, SC. Afterwards, she attended Advanced Individual Training at Fort Lee, VA, where she earned the Military Occupational Specialty 92Y, Unit Supply Specialist.
SGT Harris was assigned to H Co 101 BSB, 2ABCT, Fort Riley, KS. Not long after her arrival, her unit went on rotation to Europe in January 2019. She was reassigned to D Co 1-16 IN, 1ABCT, March 2019 and completed the rotation in Bulgaria and Romania. In June 2020, she was reassigned to F Co 1-16 IN, 1ABCT to complete her contract. In March 2021, SGT Harris was assigned to D Co 1-81 AR, 194th AR BDE, Fort Moore, GA. In September 2023, she will report to 129th Signal Company, 10th MDSB, Fort Drum, NY.
SGT Harris' military education includes Master Combatives Course, Tactical Combatives Course, Basic Combatives Course, Basic Leaders Course, Field Sanitation, HAZMAT, Cadre Training Course, Unit Supply Manager Course, Europe Drivers Course, and Unit Armorer Course. She will be attending BSEP in July and hopes to eventually attend Advanced Leaders Course, Equal Opportunity Course, SHARP Course, MRT Course, Air Assault School, Master Marksmanship Course, and many others.
SGT Harris' awards and decorations include the Army Commendation Medal, Army Achievement Medal (2 OLC), Army Good Conduct Medal, National Defense Service Ribbon, Global War on Terrorism Expeditionary Medal, Humanitarian Service Medal, Noncommissioned Officer Professional Development Ribbon, Army Service Ribbon, Wheeled Drivers Badge, and Marksmanship Qualification Badge of Expert in Pistol and Sharpshooter in Carbine.
SGT Harris currently serves as the Unit Supply NCOIC in Delta Company, 1st Battalion, 81st Armor Regiment, Fort Moore, GA. She is married with no children but has two dogs and one cat. Her hobbies include Brazilian Jiu Jitsu, Mixed Martial Arts, reading, watching movies and TV shows, cooking, weightlifting, writing, painting, and swimming. SGT Harris received her Associate of Arts in May 2022 from Barton Community College and is currently pursuing her Bachelor of Science in Supply Chain Management from American Military University.
SGT Harris' short-term goals are to have a child, complete her bachelor's degree, attend ALC, and score 80 or above in the ACFT. Her long-term goals are to buy a house, become a Commissioned Officer, and receive a master's degree.
---
25 Bravo Help Desk Specialist
Spc. Johnathan L. Morton
62nd Medical Brigade, Fort JBLM
I was born in Farmville, Virginia. As the oldest of seven, I attended school in several locations due to my mother's work as a traveling aid and part time Daycare Teacher. I graduated from public school Randolph Henry High, home of the Statesmen. I played football, wrestling and took up track for Discus and Shot put. After high school, in 2017, I attended South Side community college. At Lunenburg Correctional Center Victoria, Virginia on February 2, 2018, I applied for a Correctional Officers position. I was accepted there as the youngest Officer on shift. It wasn't until after 2 years in corrections that I decided to follow my uncles' and aunties' footsteps and join the military as a 25 Bravo. I swore in on November 27th, 2019, and left Corrections for Basic Training in Fort Jackson, SC on February 10th, 2018.
After Graduating from Fort Jackson, I was assigned to Fort Gordon Signal Battalion where I would marry my fiance of two years. After 19 weeks I graduated and was off to my first duty station. Once arriving to Fort JBLM, Washington on February 24th, 2021, I was able to address my short-term goals as a solider and young married man.
My short-term goals would be to earn the rank of Sergeant, to score a 580 on my ACFT, and to hone my skills as a leader. One of my other short-term goals is to meet the requirements for Security Plus. Long term goals include Network Plus, Top Secret Clearance and getting my degree in HVAC, Business and Finance, as well as Photography so that, after my career I can completely dedicate to my dream of building houses and photographing them for display.
---
12B Battalion Commander's Driver
I was born and raised in Mechanicsville, Virginia. As an only child, I attended a public high school where I played baseball, soccer, and wrestling. After high school, I followed in the footsteps of my father and enlisted as a combat engineer in 2019. At Fort Lee, Virginia, while waiting for my ship out date, I worked for a tree service as a heavy equipment operator and a chainsaw operator. Then, in July 2019, I attended basic combat training at Fort Leonard Wood, Missouri, two weeks after graduating high school.
After graduating OSUT, I arrived at Fort Carson, Colorado on 5 November, 2020. I was assigned to the 576th RCC where I served as the Panther driver for the PSGs until August when I was selected to be the Battalion Commander's driver and the assistant Public Affairs Officer.
My short term goals would be to earn the rank of Sergeant and earn my Sapper and Ranger tabs. My long-term goals are to go to college and get my degree in film production and photography so that, after my Army career, I can get a job in the sports industry. I would also like to get married and have two children and retire from the military after 20 years of hard work and dedication.
---
Chief, Cybersecurity Engineering and Analysis Branch
Mr. Brian Crawford is the Chief of the Cybersecurity Engineering and Analysis Branch (CEAB) at the US Army Engineer Research and Development Center (ERDC) in Vicksburg, MS. He manages a team of over 180 Federal Civilian and Contractor Cybersecurity professionals providing support in four technical areas: (a) Cybersecurity Assessments; (b) Security Engineering; (c) Defensive Cyber Operations; (d) Research and Development.
Mr. Crawford received his B.S. in Computer Engineering from Mississippi State University in 2001, and during his 20 years of Federal Service, has served as the Strategic Planner for the US Army Corps of Engineers, Vicksburg District, and the Chief of Information Technology for the Vicksburg District.
Brian joined ERDC in 2015 supporting cybersecurity efforts. During the past four years, he has served as the manager for the High Performance Computing Modernization Program (HPCMP) Cybersecurity Operations Center, team lead for HPCMP Security Support Services, and as a supervisor for the Defensive Cyber Operations team.
---
56M Religious Affairs Specialist
SPC Torres, Jacob born in Puerto Rico and raised in Florida. Graduated high school at Harmony High School on May 25, 2018. Sworn in July 30, 2018. SPC Torres attended Basic Combat Training and Advanced Individual Training in Fort Jackson, South Carolina and graduated November 30, 2018. SPC Torres went back home to Florida for hometown recruiting and got married December 7,2018. SPC Torres arrived at Fort Benning for his first duty station December 16, 2018.
---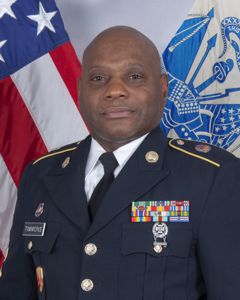 Timmons, Kevin A.
Sgt Maj., U.S. Army, Senior Enlisted Advisor, DLA Joint Reserve Force
Sgt. Maj. Kevin Timmons was born in Baltimore, MD. He enlisted into the Active Army in January 1981. He attended Basic Combat Training (BCT) at Fort Jackson, S.C and Advanced Individual Training (AIT) at Fort Benjamin Harrison, Indiana. Upon completion of training, he was awarded the Military Occupational Specialty (MOS) 42A, Human Resources specialist and throughout his career, he also awarded 38B, Civil Affairs specialist and 71L, Administrative specialist.
ASSIGNMENTS: Sgt. Maj. Timmons' assignments and duty positions include support of Officer Branch, First Army, Ft. Meade MD; NCOIC of Personnel Records Station 2122nd USAG, Baltimore, MD; Personnel Staff NCOIC, 2290th USAH, Walter Reed Hospital, Bethesda, MD; Chief Admin Supervisor in Civil Affairs section, 310th TAACOM Ft. Belvoir, VA; G1 SGM for 9th TSC, Ft. Belvoir VA; Command Group, Chief Admin. Supervisor. 9th TSC, Ft. Belvoir VA; Senior Admin. Supervisor Command Group 377th TSC (Forward) Camp Arifjan, Kuwait; Brigade S1 SGM for 55th SUS BDE, Ft Belvoir, VA; USARC Liaison for Warrior Training Brigade (WTB) @ Walter Reed Hospital for 55th SUS BDE; DHMIRS Liaison for 55th SUS BDE, Ft Belvoir, VA; Staff SGM in Command Group, Retention & AR-RAP liaison for 55th SUS BDE, Ft. Belvoir, VA; Staff SGM in SPO, Retention & AR-RAP liaison for 55th SUS BDE, Ft. Belvoir, VA; Ch Human Resources SGT, 316th MMT, Ft. Totten, NY; Sr. Enlisted OC/T, 1st Bde, 3rd Branch, Lancaster, PA; DLA Army Reserve Element Senior Enlisted Leader Ft. Belvoir, VA.
EDUCATION: Sgt. Maj. Timmons graduated from Cardinal Gibbons High School and has some college at Towson State University. His military education includes United States Army Sergeants Majors Academy, Army ANCOC, BNCOC, PLDC, Battle Staff Course (2S), Mission Command Digital Master Gunner Course, Knowledge Management Course, First Sergeant's Course, Senior Enlisted Equal Opportunity Course, Multi-functional Combat Service Support Course, Anti-Terrorism Training Course Levels I & II, DTMS Master Trainer Course, SHARP Course, Applied Suicide Intervention Skills Training (ASIST), Mission Command 101 Course, Personnel Management Specialist Course, Currently Human Resources Specialist, Civil Affairs Course, Administrative Specialist Course, and Antiterrorism Defensive Driving Safety Course.
AWARDS: Sgt. Maj. Timmons' awards include the Meritorious Service Medal, Army Commendation Medal with 1 Oak Leaf Cluster, Army Achievement Medal with 4 Oak Leaf Clusters, Army Good Conduct Medal, Army Reserve Component Achievement Medal with 8 Oak Leaf Clusters, National Defense Service Medal, Global War on Terrorism Expeditionary Medal, Global War on Terrorism Service Medal, Armed Forces Reserve Medal with Gold Hourglass and M Device, NCO Development Ribbon with numeral 4, Army Service Ribbon, Army Overseas Service Ribbon, and Army Reserve Component Overseas Training Ribbon with Numeral 5.
---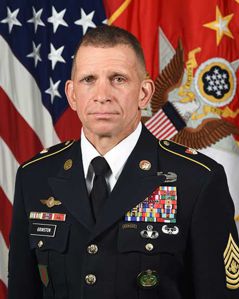 Sgt. Maj. Michael A. Grinston
16th Sergeant Major of the Army
Sgt. Maj. of the Army Michael A. Grinston was sworn in as the 16th Sergeant Major of the Army on Aug. 9, 2019. Grinston has held every enlisted leadership position in artillery, ranging from cannon crewmember to command sergeant major.
As the sergeant major of the Army, Grinston is the Army chief of staff's personal adviser on matters affecting the enlisted force. He devotes the majority of his time traveling throughout the Army to observe training and interact with Soldiers and their Families. He sits on a variety of councils and boards that make decisions affecting enlisted Soldiers and their Families and routinely invited to testify before Congress. Grinston is the public face of the U.S. Army's Noncommissioned Officer Corps, representing the NCO Corps to the American people in the media and through business and community engagements.
Grinston is a native of Jasper, Alabama, and enlisted in the Army in October 1987. He attended Basic Training and Advanced Individual Training as an artilleryman at Fort Sill, Oklahoma. Grinston's deployments include Operations Desert Storm and Desert Shield, Iraqi Freedom, New Dawn, Inherent Resolve, Enduring Freedom, and Kosovo. As the 1st Infantry Division command sergeant major, Grinston served as the senior enlisted leader for the Army's first deployment of a division headquarters in support of Operation Inherent Resolve. He also served as the I Corps command sergeant major, and as the command sergeant major for U.S. Army Forces Command.
Grinston's military education includes all levels of the Noncommissioned Officer Education System. He is a graduate of Ranger School, Airborne School, Drill Sergeant School, Air Assault School, How the Army Runs Course, the Equal Opportunity Leaders Course and the Keystone Course. Grinston holds a Bachelors of Arts in Business Administration from the University of Maryland University College.
His awards and decorations include the Army Distinguished Service Medal, Defense Superior Service Medal, Legion of Merit (2nd award), Bronze Star Medal with Valor (2nd award), the Bronze Star medal (3rd award). He has earned the Ranger tab, Master Parachutist badge, Air Assault badge, Drill Sergeant Identification badge, and the Combat Action Badge.
Grinston is married and has two children.