MOS 91B/Wheeled Vehicle Mechanic NCOER Examples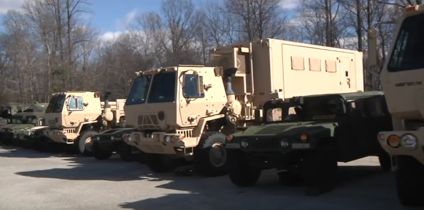 o inspected all vehicles and verified or installed steering wheel locks and chains to ensure 100% physical security; eliminated unauthorized use
o maintained 100% accountability of $15,000 worth of section property (Tools)
o provided support to 203D MI down trace units as we assumed mission 203D BN MI, recovered 1 vehicles during AT.
o received all vehicles for AT mission. Repaired down vehicle. Picked-up, delivered and turned in AMMO. Made fuel runs for all vehicles. Was acting BMO for HHC at AT.
o subject matter certified parts clerk
o light wheel vehicle mechanic/wrecker operator during the battalion's AT
o performs motor sergeant duties and ensured 100% readiness of all HHC equipment
o assisted as a UH-60M Black Hawk mechanic, overseeing aircraft washes and minor repairs
o seized the initiative and oversaw key-control accountability for 79 pieces of equipment, reducing defects to zero
o inspected all vehicles and verified or installed steering wheel locks and chains to ensure 100% physical security; eliminated unauthorized use
o spearheaded the motorpool's parts operation and organized hundreds of parts spanning six connexes, which facilitated faster overall repair times
o organized wrong parts and turned-in Class IX excess which resulted in a more efficient stockage for the 338th and improved material readiness of other units in ASG-Kuwait
o restructured the organization of the motorpool's 5988's by consolidating jobs based on parts on hand versus time that a piece of equipment was on deadline, resulting in fewer and shorter deadline intervals
o maintained 100% accountability of $15,000 worth of section property (Tools)
o provided support to 5th Engineer Bn as we assumed mission from 1203rd, recoverd 13 vehicles during named opperations
o light wheel vehicle mechanic/wrecker operator during the battalion's deployment to Iraq in support of OIF
o dedication to duty and technical expertise contributed significantly to C Battery's maintenance success
o collected over 550 man hours in a quarter
o superb technical knowledge contributed to the Golf Company maintenance platoon winning the USARAK Army Award for Maintenance Excellence (AAME)
o ensured the batalion sustained a 95% operational readiness rate by performing over 200 unscheduled repairs to the 1-501 wheeled vehicle fleet within one year period
o consistent demonstration of competence earned special request by the Delaware Company Command team to lead a dedicated Field Maintenance Team on JRTC 14-6
o flawlessly executed and provided oversight of the lateral transfer of 16 pieces of motorpool equipment ensuring strict adhereance to 10/20 standards
o expedited the recovery and repair of over 30 vehicles allowing unit to remain combat ready
o volunteered to provide support to the 1-25 ATK Battalion's Aerial Gunnery
o his expertise and experience were instrumental in maintaining the Battalion's ground equipment at the highest level of readiness
o assigned as shift supervisor; supported over 70 critical annual, semi-annual and unscheduled maintenance on all rolling stock
o trained seven Soldiers on towing, craning, and winching with the M984A2 HEMTT wrecker
o his devotion and automotive system knowledge ensured the battalion's vehicles made their scheduled convoys on time
o displayed a dogged devotion to the safety and well being of his Soldiers and used risk management in analyzing all of the squad's daily activities to prevent accidents or injury
o drew 200 vehicles during NTC rotation
o first person to arrive, last to leave
o his ability to read the situation allowed his Command to station his team the farthest from the rest of the Company
o his numerous critiques and suggestions are always intelligent and help the squad improve and prepare for ever-changing tactical conditions
o performed over 100 critical annual and semi-annual PMCSs on equipment
o her diligence resulted in zero accidents or injuries during eleven months of combat operations
o serviced and repaired 28 MRAPS and 4 M984 wreckers
o installed several upgrades to fleet including gunner platforms, route clearance lights, and generator modifications
o returned 3 vehicles to FMS status in one day; resourceful and knowledgeable mechanic
o worked as PLL/TAMMS Clerk while deployed in support of OIF 07-09--team player!
o directed traffic in and out of shop safely
o managed the maintenance and service of four trailers and five load handling systems
o developed and implemented a challenging and realistic night recovery mission for students, improved readiness
o served as wrecker operator during the battalion's deployment to Iraq in support of OIF 2009
o trained 7 Jr enlisted soldiers in their Warrior Task Training and technical fields
o dedication to duty and technical expertise contributed significantly to C Battery's maintenance success
o collected over 661 man hours in a quarter-dedicated Soldier
o worked outside his MOS to help the maintenance platoon complete 2 services and 20 repairs during the Biak phase of annual training
o helped identify, inventory, and turn in over 1500 lines of PLL
o supported 3rd Engineer Bn as mission was assumed from rotating unit, recoverd over twenty vehicles during named opperations
o assisted in the inventory and turn-in of 5.5 million dollars worth of excess parts and equipment
o repaired contract truck while under fire on Supply Route Tampa so the vehicle could be recovered before night
Maintenance Control Sergeant
o served in every major maintenance position from Technical Inspector to Maintenance Control Sergeant
o completed over 3,000 maintenance work orders, sustained readiness rating over 90% throughout his tenure
o executed motor pool operations for multiple units, successfully completing 350 Job Orders on all Fall Classic Equipment
o recovered 260 vehicles and arranged and coordinated repair for all of them
o developed and implemented a driver training program that didn't exist prior to his arrival; increased company's qualified/licensed drivers from 10% to 90% in four months
Senior Mechanic
o oversaw the maintenance and repair of 10 wheeled vehicles during annual training at CSMS resulting in increased operational readiness of the Battalion
o assisted Motor Sergeant with 3rd Shop Level repairs reducing downtime and increasing readiness rating
o taught numerous Battalion Leaders Maintenance classes, greatly improving the quality of the Battalion's maintenance program
o quickly developed skills and knowledge outside of primary MOS required to complete mission
o replaced 8 engines and 11 transmissions on site that would normally be shipped to depot
o took initiative and performed all required duties in the absence of the company motor sergeant
o instrumental in the transport of 14 Mine Protected Vehicles (RG31s) to Bagram Airfield for distribution to companies in the battalion
o managed the maintanence of all vehicles on a three day convoy from the FOB in Paktika province to COP Kushmand, covering over 500 miles through the worst terrain on the planet, with no mechanical failures
o set up the Tactical and Logistical Operating Centers during Annual Training 2010 at Camp Custer State Park
SHOP FOREMAN
o managed three different sections of maintenance: service, 3rd shop support and recovery
o completed over 60 services, handled recovery for both military and TMP vehicles, 3rd shop support rosters
o ensured service parts were properly and efficiently distributed
Vehicle Recovery Specialist
o accomplished more than 40 vehicle recovery missions with no failures or further damage
o selected from 1-38 FA Battalion to supervise most difficult and complex recovery operations
o focused on improving physical fitness, raised his PT score over 30 points
o served as a crew member on the M88A2 during 24 recovery missions for tracked and wheeled vehicles
o maintained the M88A2 daily to ensure readiness for the next mission
o cross-trained and assisted with unscheduled maintenance on tanks at the UMCP when not on recovery missions
o provided vehicle recovery training to 79 soldiers, multiplying mission capabilities
o vital to the day-to-day operational success of the maintenance cell
o prioritized and dispatched teams to repair multiple vehicles; successfully recovered 188 vehicles
o led a 4-man recovery team to recover multiple vehicles during FTX at Dillingham
o recovered 14 inoperative vehicles during the 523D CTC Yakima Training exercise
o developed and used innovative combination of land navigation and GPS skills to find a missing vehicle during platoon STX lane
o provided wrecker and maintenance support while mentoring five soldiers
o assisted in over 50 recovery missions of different varieties of 2-108 vehicles
o recovered over 30 vehicles immediately upon breakdown, ensured disabled vehicles had no effect on the unit's mission
o SGT Mixon's attention to detail ensured no injuries to Soldiers or further damage to disabled equipment during recovery
Parts Clerk
o as Parts Clerk for the 298th Support Maintenance Compamy (SMC) during operation IRAQI FREEDOM, SGT Wilson ordered required parts and maintained a bench stock of service parts worth in excess of one million dollars
o SGT Wilson was prepared, due to his diligence, for the repair of the HETT trailer and its in-depth 5 year service
o SGT Wilson's dedication to duty and the unit helped ensure that all parts where ordered and on hand when a trailer's service was due
Recovery Vehicle Operator
o served as lead mechanic for the 211th Maintenance Company's Maintenance Cell in support of the 174th, 371st brigade, 684th, PTAE, and the 211th during Annual Training at Camp Atterbury
o performed motor sergeant duties (one grade above) and ensured 100% readiness of all equipment including 18 1151A1s
o as the lead recovery operator, provided wrecker and maintenance support while mentoring 4 Soldiers; was vital to the day-to-day operations of the Maintenance Cell
o held the critical role of lead wrecker operator for 211th Maintenance Company's Maintenance sweep and facilitated 100% accountability and serviceability of all equipment at Camp Atterbury