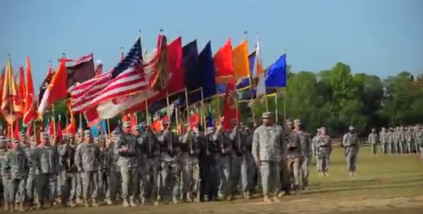 o presented confident and professional military appearance with exceptional military bearing and instills this standard in his subordinates
o maintained a positive attitude despite a high OPTEMPO; continuously showed confidence and enthusiasm under stressful conditions
o continued to challenge the appropriate level of fitness to accomplish the mission and demands the same of his Soldiers
o presented impeccable military bearing regardless of the situation; exemplifies the meaning of pride and professionalism
o demonstrated a high level of motivation and physical endurance; challenged his Soldiers to score a 70 percent in each event; scored 280 on his last APFT
o demonstrated the ability to take charge, complete challenging tasks and set the example for other Soldiers to follow
o exercised extreme resilience with his wife receiving a debilitating diagnosis and his son having two brain surgeries. Never gave up.
o maintained military bearing when placed into unique situations, suited for a higher grade
o demonstrated unquestionable loyalty to superiors, peers, and the unit
o faced problems head on while working at a high OPTEMPO with often less than 75% of authorized MTOE manning strength
o true leadership; confronted inappropriate behavior and conducted on-the-spot counseling
o demonstrated personal courage; refused to ignore departure from standards and took action to restore order
o presented impeccable military bearing regardless of the situation; exemplifies the meaning of pride and professionalism
o exceeded expectations by always volunteering for all after hours Unit operations; always saw missions through to the end
o ended chronic disorderly conduct in the section; enforced standards and restored a professional and productive work environment
o revived building exterior appearance standards; scheduled regular maintenance by Soldiers; improved grounds appearance 100%
o standardized work center desk arrangement and operations; streamlined office operations and set the example in a joint environment
o developed comprehensive DV procedures checklist; provided unprecedented honors, recognized as most thorough and adopted as unit standard
o demanded assigned joint personnel meet same standards as Soldiers; obtained joint agreement; improved morale
o strived for fitness excellence, scored 271 on the APFT, and maintained Fitness Badge; epitomized FM 7-22, sec 3-1
o integrated seven Soldiers into the THOR3 Program; his team scored over 80 points in each PT event
o set the example during Detachment stress shoot; displayed the physical stamina to go the distance on the battlefield
o exhibited mental and physical toughness during FTX; led three Soldiers on rigorous 15 kilometer dismounted movement
o demonstrated impeccable military bearing and resiliency; confident leader that made best decisions in the interest of subordinates
o encouraged all subordinates to implement strenuous PT programs; scored xxx on most recent APFT
o went above and beyond to ensure mission success; regularly came into work early and stayed late; ensured Battalion tasks were supported and executed to standard
o displayed multi-faceted physical fitness; awarded the Silver German Armed Forces Proficiency Badge (GAFPB) during the rating period
o unwavering dedication to physical readiness training for 21 Soldiers; resulting in a 21 point increase in platoon PT score average from 235 to 256
o consistently performs physical training to maintain a high level of physical endurance and stamina
o took pride in uniform and personal appearance; displayed a high level of confidence
o proved mental toughness through assigned duty performance
o possessed an attitude of determination and optimism throughout challenging missions
o Senior NCO that strongly encouraged our unit's Soldiers to improve their PT scores by implementing PT programs at home and leading our remedial PT program
o exceptional role model for Soldiers who sets the example in physical fitness and wear of the uniform, always projecting self-confidence and authority
o Soldier sets the example when it comes to physical fitness
o Soldier continues to increase his PT score, constantly scoring over 270
o encourages younger Soldiers to implement PT programs at home to increase PT score
o implemented a fitness workout to improve the welfare and strength of his Soldiers
o APFT administrator for the company; supported Commander's APFT program
o tough and aggressive; never quits physically or mentally
o true self-starter with the strength and conviction to get the job done
o competed in the Commander's Cup challenge, led his team to a first place finish in a 17-mile foot march while carrying over 50 pounds of equipment
o maintained the APFT badge by scoring a 300 on physical fitness test; awarded Certificate of Achievement for his accomplishment
o demonstrated excellent mental agility; is able to think through any dilemma
o failed to meet body fat standards IAW AR 600-9; measured at 25% body fat but is making progress on the weight control program
o created and implemented a rigorous PT plan which kept his FO team physically able to meet the strenuous demands of operations in the rugged Afghanistan terrain
o set the example for his FO team by maintaining and enforcing proper military appearance through constant uniform inspections and spot corrections
o exceeded the Army standard by scoring a 292 on the APFT and maintaining the Army Physical Fitness Badge
o tremendous emphasis on APFT resulted in Platoon raising PT average from 219 to 254 in only a matter of three months; January to April FY12
o has not passed an APFT in this rating period but is training to improve and meet the standard
o demonstrated outstanding physical and mental toughness during the 12 month combat deployment to Afghanistan
o critical and independent thinker, possesses the confidence and mental toughness to strive for excellence
o the Soldier has passed his AFPT this year and has just received his walking profile
o a motivated NCO who learns from his mistakes and is constantly improving
o earned a score of 282 on most recent PT test
o displayed exceptional physical endurance; set the standard for Soldiers to emulate
o dedicated long hours upon arrival to Afghanistan to establish the Task Force's C4I systems into a steady state ensuring the Task Force assumed the mission on time
o presented a professional, soldierly appearance at all times
o motivated, enthusiastic NCO who took lead in organized physical fitness training of all soldiers
o scored 300 on last APFT
o outstanding endurance! Sustained combat operations in a hostile environment outside of the FOB for 72 hours straight
o excellent runner, ran two miles in 12 minutes
o strong stamina and will to win
o appearance and bearing above reproach
o is alert, quick and responsive
o displays impressive poise under stress
o remains flexible and cooperative under all conditions
o raised platoon APFT average by 22 points
o scored over 280 on last two APFTs
o Master Fitness Trainer; served as unit instructor for daily PT
o takes extreme pride in personal appearance
o excellent physical condition; led advanced PT during physical training
o platoon achieved 100% first time pass rate on APFT for two consecutive testing cycles
o motivated platoon to improve PT average by 30 points
o his mental toughness and discipline brought him to new found physical goals
o maintained excellent physical fitness; encourages the same standards of others
o praised by the BDE CSM for service as Master Fitness Trainer and the Aquatic PT program instructor
o mentally, physically and emotionally ready to lead in combat
o sets the example for subordinates
o disciplined in attitude, appearance, poise and authority
o always displays a commendable military appearance
o fully committed to success; always gives 100 percent
o assisted squad in averaging 270 on APFT score
o motivates the unit by giving challenging physical fitness training
o consistently scored 270 and above on APFT test
Needs Improvement
o frequently missing from his place of duty; often found annoying the members of other offices
o places more importance on and effort into personal phone calls than his duties
o unable to use idle time productively; chooses wandering the halls over reviewing regulations or developing MS Office skills
o thinks a pressed uniform and fresh haircut qualifies him for a top NCOER and management position
o SFC Hero's participation in unit physical training declined during this rating period
o made satisfactory progress in run time but still approaching minimum standards in...
o presents sharp military appearance but needs to realize importance of subtlety
o counseled twice for disrespect toward an NCO; focus on relationship skills
o refused suggestions to attend counseling until problems escalated to the point of making him unfit for duty
o failed to meet APFT standards for the two mile run and sit-ups with a total score of 124
o soldier failed to meet height and weight requirements or make any progress
o failed to meet minimum APFT standards repeatedly and lacks the willingness to improve
o took an apathetic approach to the health and welfare of troops; resulted in entire squad failing to meet the height and weight standard
o failed to complete 2-mile run during APFT, quit after 1 mile
o worked a demanding schedule that included changing between from nights to days and frequently fell asleep during shift
o displayed substandard appearance and military bearing for an NCO of his rank
o failed to meet the body fat standards during rating period; maintained three to eight pounds of weight loss and removed himself from the AWCP
o soldier is on profile and cannot conduct an Army Physical Fitness Test, or participate in any physical training events
o presented an unprofessional appearance and lacks military bearing
o he continued to undermine what it means to be a soldier, let alone a leader
o attempted to abuse position and authority to cheat on previous record APFT
o demonstrated a lack of integrity when he attempted to cheat on the previous record APFT
o personal issues are interfering with conduct on the job
o failed to meet body fat standards IAW AR 600-9; measured at 27% body fat and maintained 2-3 pound weight loss per month while on the weight control program